Specialty Plastic O-Ring & Rubber Seals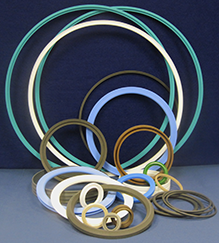 Precision Fluorocarbon Inc. has become the trusted manufacturer for specialty plastic O-ring and custom rubber seals of all types and sizes. While we manufacture Seals and O-Rings out of many materials, PTFE is by far the most popular. PTFE Seals and O-Rings offer extreme temperature, high pressure, and chemically inert properties for the most demanding applications. Talk to us about the applications you have in mind, and we'll help you find the perfect O-Rings or plastic Seals for your application.
Benefits of PTFE
Our PTFE product isn't just a simple custom rubber seal. This flexible, non-toxic material offers heat and cold resistance up to 500°F and is the lowest coefficient of friction. It also possesses impressive chemical resistance and is even FDA-approved for food applications. PTFE is tasteless and odorless, and it can be sterilized as well. Plus, this material is completely steam-proof and detergent-proof. With advantages like these, you can't go wrong.
We'll be glad to design whatever you need. Contact us to start the custom plastic manufacturing process.