Custom Plastic Bellows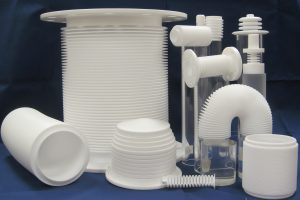 Consult with Precision Fluorocarbon Inc. for your plastic bellows. We will assist in the design and then manufacture your bellows from numerous materials for varied applications and industries. Custom plastic bellows are often used in piping systems like pulse dampeners or covers to protect reciprocating components. Unlike other manufacturers, our bellows are fully CNC machined from solid materials to create a flexible member. This gives our plastic bellow tubing exceptional strength, flexibility, and longer life.
Why Order From Us?
Regardless of how simple or complex your PTFE bellow requirements are, our experts can help you design them right away. We're leading rubber custom plastic bellows manufacturers with nearly 3 decades of experience. Our custom machined plastic parts business has worked with chemical equipment, industrial machinery, pollution control, and everything in between. We've developed applications for plastic bellow tubing included as components in all of the following industries:
Medical Equipment
Chemical Equipment
Pharmaceutical Processing
Piping Systems
Pulse Dampeners
Semiconductor
Contact us to make your bellows yours. When you order custom plastic parts from us, you never have to compromise on quality.