Plastics Machining Services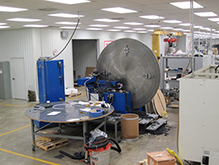 One of the plastics machining services available from Precision Fluorocarbon Inc. is extensive plastic machining. We have the experienced and knowledgeable staff, in-house equipment, and plastic material stock to provide every service you need. This includes design consulting as well as manufacturing and machining plastic. Whether it's simple or complex, it's no problem for us. Our equipment covers CNC (computer numerical control) milling centers, CNC lathes, standard milling plastic machines, standard lathes, and other machinery to meet your needs.
Our extensive machine shop has the capability of precision lathe turning and milling of virtually all types of industrial plastics machining services using modern, state-of-the-art CNC equipment. We have fifteen turning centers, two of them with milling capabilities. These in-house turning centers have the capacity and capability of machining diameters from 0.125" OD to 100" OD.
Advanced Milling Capabilities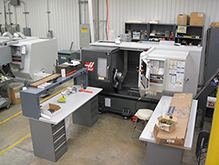 Our milling plastic department consists of eleven machining centers, including both vertical and horizontal machines. Our vertical CNC machining centers have a number of table sizes, including 16" by 20", 20" by 30", 30" by 40", and 32" by 64", with 3-axis and 4-axis capabilities. Four of our CNC vertical milling centers are equipped with Renishaw(r) touch probes attached for in-process inspection of machined components. The horizontal CNC milling center is a simultaneous 5-axis unit that is used for the most complex, intricate, and demanding machining requirements.
This horizontal CNC milling center is also equipped with a Renishaw Renscan 200(r) scanning probe for digitizing and reverse engineering complex shapes and surfaces. Our engineering, design, and production staff uses the latest technology in 2D and 3D CAD/CAM systems for all programming and design requirements and specifications for any custom machined plastic parts.
Reasons to Choose Our Company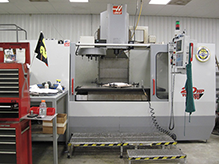 Whether your specific machining plastic project needs help with the creation of a new design, updating an existing design, or reverse engineering an old component, our team can work with you. We help develop the initial concept, prototype a sample, and continue all the way through to production and delivery for our custom plastic machined components.
We have the latest CAD/CAM software and can take your CAD drawings and files (ProE, AutoCAD, SolidWorks, etc.) in DXF, DWG, IGS, SLDDRW, SLDPRT, or PDF format. Our crew has the extensive experience to assist you with the most cost-effective and practical plastic machining approach, ensuring the final custom machined plastic parts reflects the material that best balances between cost and performance.
We're happy to answer any questions about our plastics machining services and technologies. Contact our custom plastic manufacturing team to learn more.