Custom Plastic Semiconductor
With more than 27 years of experience in all phases of custom semiconductor component manufacturing, Precision Fluorocarbon Inc. is recognized as an industry leader throughout the field. From fabrication to production to delivery, we do it all. Our plastic semiconductor components vary widely, from bellows to diaphragms to nozzles, pumps, valves, and much more. One of our popular services is our semiconductor components.
Since the day we opened, we've been producing custom plastic parts for a wide range of industries, including semiconductor equipment manufacturers. To meet the stringent requirements for plastic semiconductor component fabrication, our production, and machine shop area is kept at a controlled temperature of 74° to 76° F. This allows us to maintain exact tolerances and specifications. Our production and environment is maintained through zoned and filtered air — along with excellent overhead lighting in a dropped 12' ceiling — to ensure clean and uniform parts.
Some of the custom semiconductor components our company has custom fabricated are:
Bellows
Diaphragms
Collection Cups
Spindle Caps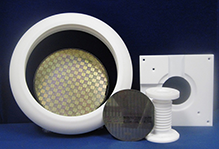 Fittings
Insulators
Manifolds
Nozzles
Semiconductor Clean Room Parts
Wafer Carriers
Contact us for all of your custom semiconductor component requirements. We can easily address all of your concerns about our plastic biomedical components.