PTFE Thermal Forming
Among the many custom plastic parts that have been produced at PFI, one component that has been extremely successful in terms of improving quality and functionality is our PTFE thermal forming or custom PTFE diaphragms.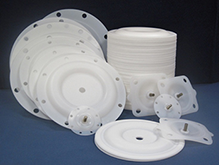 Since 1989, PFI has been supplying high-quality PTFE diaphragms to the air-operated double diaphragm pump industry. Custom PTFE diaphragms designed and produced by PFI consistently outperform competitors' units in durability tests every time – in fact, PFI PTFE thermally formed diaphragms meet and surpass the 12 million flexural cycle test again and again. While our PTFE diaphragms meet our customers' standards and specifications for reliability and dependability, we at PFI are routinely researching and engineering new innovations to further improve diaphragm quality for custom plastic manufacturing.
Additionally, PFI produces diaphragms for WEIR valves that are used in pharmaceutical, laboratory, and chemical valve applications. These valve diaphragms include an integral stainless steel shaft that is encased by the PTFE thermal forming or Copolymer PTFE diaphragm.
The PTFE diaphragm molding process begins with diaphragm blanks being machined from compression molded Virgin PTFE rod. The thermal forming plastic diaphragm blanks are then thermally formed in matched die sets and trimmed to the customers' specifications and tolerances. The processes that PFI employs, dramatically improves the flexibility and flex life of the PTFE Diaphragm. Material choices include Virgin PTFE and Modified PTFE. PFI has manufactured diaphragms from 1" OD up to 16" OD.
Get in touch with the PFI design team today, and allow us to exceed your PTFE diaphragm tolerances and specifications for your custom machined plastic parts.