Your Source for Custom Plastic Components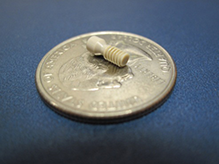 Precision Fluorocarbon Inc. has specialized in all phases of custom plastic components for more than 27 years. From assisting in the development of your initial concept and design to fabrication and production to final inspection and shipping, we're prepared to offer everything you need. That's all we do — custom plastic molding and applications of custom plastic parts and units nationally and internationally.
Whatever your custom plastic component applications are, we have the experienced staff, the sophisticated equipment, and the production capacity to not only meet but exceed your guidelines. We help with your initial concept, manufacture the product, supervise the process with quality control, and finally perform inspections and start shipping. You can always count on us to deliver your custom plastic designs and applications as perfect parts on time, every time.
Offering the Latest Technology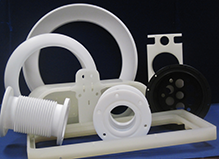 In order to fabricate and manufacture our custom plastic components, we stock a wide range of in-house equipment to handle every part of the manufacturing process. The capabilities and complexity of our machinery are virtually unmatched in the plastic fabrication industry.
A prime example of this is our 5-axis horizontal CNC Milling Center. This device can locate complex products in virtually any position and then machine the custom plastic component in simultaneous 3-axis, 4-axis, and 5-axis motions. For reverse engineering complex surfaces and shapes, the scanning probe collects measurement and sizing data and then imports it into CAD/CAM software. From there, it develops models and the machine code to replicate the original part exactly.
What Sets Us Apart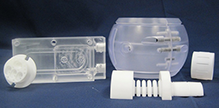 All fabricated parts and industrial plastic molding are individually designed to your specific specifications and standards and made for your particular application. Whether it's just a few pieces or high-volume production quantities, our company meets and exceeds every custom plastic design requirement. That's what places our plastic biomedical components ahead of the competition.
We've manufactured and machined all kinds of plastic products, from the simple to the most complex and intricate. Our company has been and continues to be contracted to produce a great many unique and unusual parts and components. Since our beginning, we've fabricated and manufactured a wide variety of custom plastic components, such as: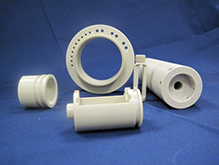 Actuator Parts
Bellows
Biomedical Components
Diaphragms
Gaskets
Manifolds
Packing
Pulse Dampener Components
Pump Components
Water Treatment Components
Seats
Semiconductor Parts
Shuttle Valves
You deserve to have your products the way you want them. Contact us, and we'll do everything we can to make that possible.